Lighting is so often misunderstood in the home. Most people don't use low energy lighting throughout, but they also forget it's an essential tool for designers. Below are a few designers who I think are making unmissable eco-statements and future eco-home classics.
Stuart Haygarth collects everyday objects in large quantities, before categorising and assembling them in a way that 'transforms their meaning'. He produces both functional and sculptural work but it's his chandeliers that are his most exciting creations. Made from everyday objects, such as spectacles and rear car lights, they really do give 'the banal and overlooked a new significance'. Just check out his 2004 work 'Millennium' to find out exactly how beautiful used party poppers can be. www.stuarthaygarth.com
Sticking with chandeliers, Madeleine Boulesteix creates brilliant pieces from assorted kitchen items. The idea of a beautiful chandelier made from used toast racks and trifle moulds sounds extraordinary, and it really is.  Have a look for yourself because I can tell you don't believe me. Madeleine says her work comes from a basic human need to 'create, recreate and entertain' and she loves to 'make something opulent out of everyday objects'. Surely the very essence of upcycling. www.madeleineboulesteix.co.uk/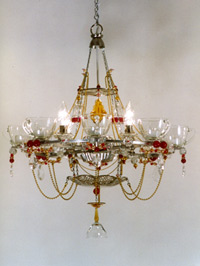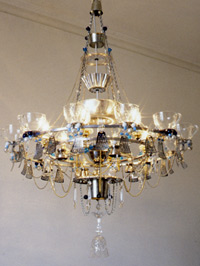 Sarah Turner also specialises in making stunning lighting from waste materials. Collecting empty plastic bottles from local shops and cafes, they are cleaned and sandblasted before being sculpted into unrecognisable and beautiful forms. With less than 6% of all plastic bottles being recycled in the UK, is there a more imaginative way of doing it than this? http://www.sarahturner.co.uk/products.html
 These designers really prove there is so much more to lighting than most people realise. By creating such stunning products from waste materials it's surely inspiration for us to make better and more imaginative use of lighting in our own homes.